KIMCHI EASY AS 1,2,3…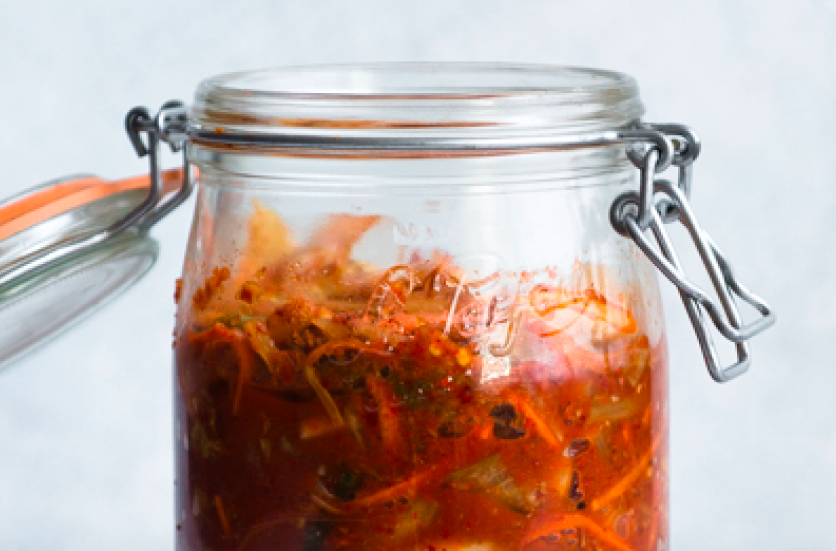 It's said that every Korean kid believes their mother makes the best kimchi in the world, and some go as far as to take a homemade batch along when travelling…  A Korean staple, eaten with almost every meal, this fermented cabbage dish packs a chilli hit that complements a wide range of international cuisines. There are thousands of variations on this simple recipe, so if you're feeling inspired to create a new tradition, feel free to add spices or flavours that you–or your family- love.  
You will need:
1 Chinese (Napa) cabbage

3 garlic cloves, crushed

1 inch (cubed) piece

ginger

, grated

2 tbsp

fish sauce

(optional- substitute soy sauce for a vegan Kimchi)

2 tbsp sriracha chilli sauce or chilli paste 

1 tbsp golden caster sugar

3 tbsp rice vinegar

8

radishes

coarsely grated

2

carrot

s cut into matchsticks or coarsely grated

4

spring onions

finely shredded

Optional: Tbsp sesame seeds or 1 tsp sesame oil
Let's cook!
Step 1
Slice the cabbage into one inch pieces. In a large bowl, mix the cabbage with 1 tbsp sea salt, before allowing this mixture to rest for one hour. 

Step 2
While the cabbage is curing, use a small bowl to mix the garlic, ginger, fish sauce (optional), chilli sauce, sugar and rice vinegar together to form a paste.
Step 3
Rinse the cabbage in a colander with cold running water.  Drain and dry well using kitchen towel. Place the rinsed cabbage in a large bowl with the radishes, carrot and spring onions, before adding the paste and mixing until the vegetables are well-coated. You might want to serve right away, or fill a large jar with kimchi until tightly packed–seal it up tightly and leave at room temperature overnight. 
Step 4
The next day, place it in the refrigerator to cool. The fermented Kimchi may be kept in the fridge for 2 weeks, where its flavour will continue to improve!