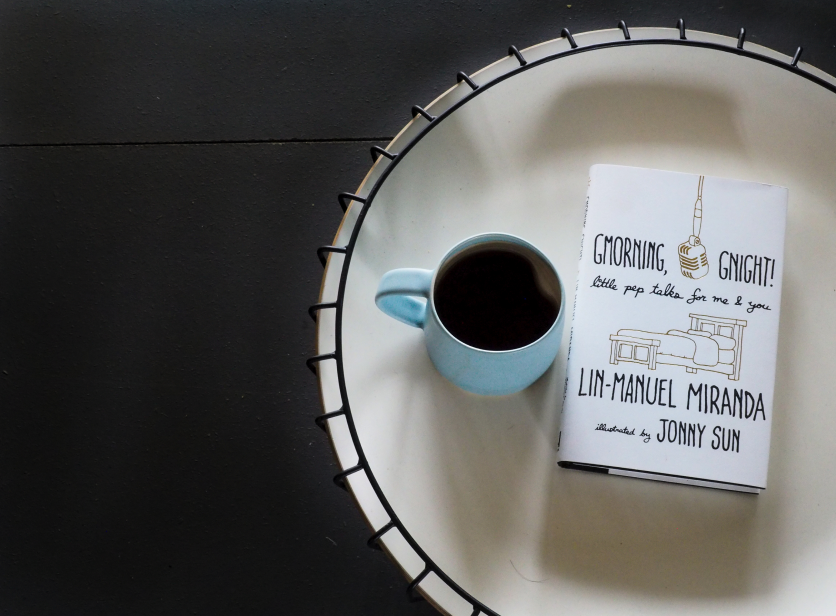 GMORNING, GNIGHT!  Lin-Manuel Miranda
Lin-Manuel Miranda is a man of a million talents.  Not only is he the creator and star of the hit musical Hamilton, his 2018 book, GMORNING, GNIGHT!  is like waking up to the very nicest text message from your very best friend, every single day… and again every night before your head hits the pillow.  Miranda's funny, original words have an almost magical ability to create that warm feeling of 'every little thing is gonna be alright'. Miranda himself knows the importance of persevering through good days and bad–he's been an actor and a writer most of his life, but it wasn't until the musical Hamilton became an instant Broadway hit in 2015 that the industry took notice. Illustrated playfully (most of it could easily be shared with little ones before bed), this is not your average book of affirmations or guide to enlightenment. Just a glorious collection of everyday words of kindness and encouragement that can make all the difference…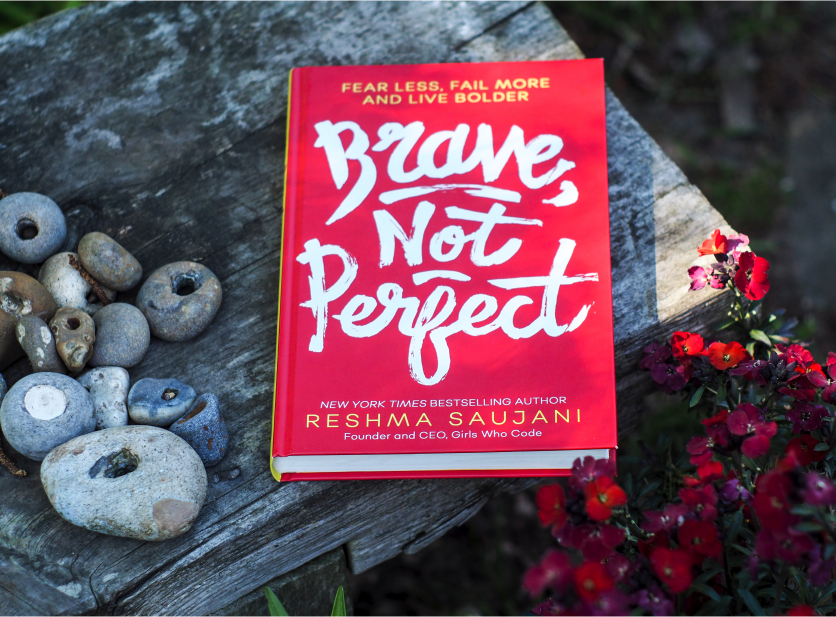 Brave, Not Perfect, Reshman Saujani
Tired of the pressure to be perfect? If you spend any time rifling through magazines, it's almost impossible not to feel like hiding under the duvet at some point.  But perfectionism is a paradox, with the inevitable failure to meet certain standards built-in. In other words? You can't win. But you also can't lose! Everyone is unique, which means there really are no 'standards' that accurately reflect everyone's individual experience.  
Inspired by Saujani's sensational TED talk,  Brave, Not Perfect encourages women to fight the myth of perfection, and develop habits of courage and bravery instead.  According to Saujani, we need the courage to be ourselves, free from the guilt and shame that can plague us in an era saturated with comparison and competition.  Seeking perfection makes us too scared to try, while seeking bravery means doing it anyway. Now that's a philosophy we can get behind! A delicious, timely book that will leave you feeling stronger with every page.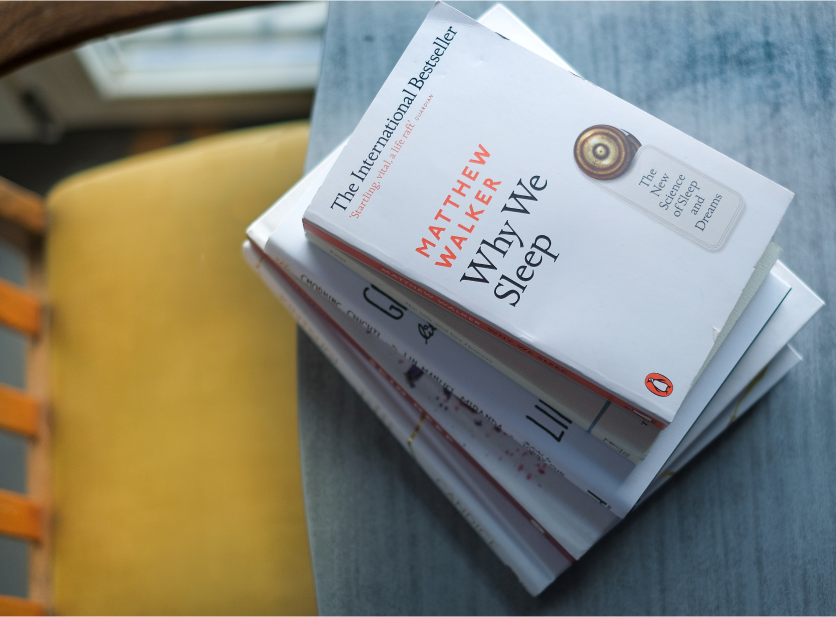 Why We Sleep, Matthew Walker
If you've been up all night comforting a sleepless child, or spent the wee hours updating your Twitter feed and staring at the ceiling, this book may not seem like it has your name on it.  But trust us, there's something in it for everyone. Neurologist Matthew Walker's groundbreaking work on the importance of sleep for health–not just physical but also mental, emotional, and even sexual–is a real eye-opener (even if it makes you want to shut them again immediately). For centuries, sleep has been largely unknown territory, even to scientists; very little was understood about its significance to our wellbeing. Enter Mr. Walker, whose extensive research gives you the hows, whys, and whens of sleep 'hygiene' and how to optimise your own sleep patterns for a longer and healthier life. If nothing else, it may be the only book in the world that can influence your desire to reach for 'Next Episode' on Game of Thrones at 1am.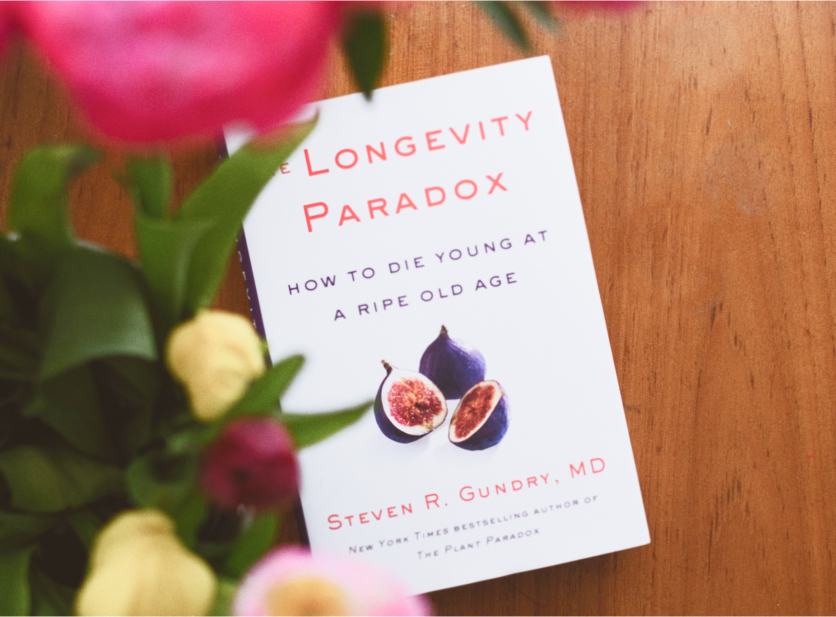 The Longevity Paradox, by Stephen Gundry
The new secret to growing older gracefully? Take heart, needle-phobes –or anyone who doesn't want to mess with nature–it doesn't come in a syringe…  Rather than disguising the symptoms of ageing, science is turning to the root causes. With a highly creditable career in cardiology, Stephen Gundry, MD explores the complex process of ageing, examining what is inevitable, and what can be avoided by living well. To keep the inside as beautiful as the outside, a full nutrition and lifestyle plan is even included. Similar to Gundry's last book, The Plant Paradox, The Longevity Paradox is carefully researched yet clearly presented (for those without a PhD). Even for a younger audience, this book is full of fascinating advice on how to get ahead of the curve and maintain youthfulness well into what used to be called 'old age'… get ready to get carded.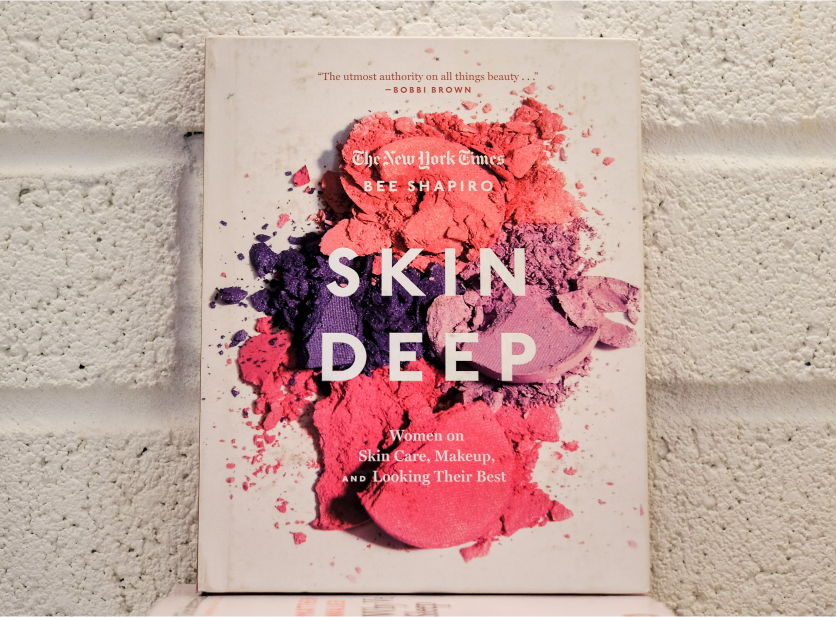 Skin Deep, Bee Shapiro
Beauty comes from within, of course… but it's no secret that you've got to care for the skin you're in. Bee Shapiro, daughter of Vogue editor Anna Wintour, has created this brilliant collection of wisdom and advice from some of the world's most glamorous and influential figures from within the world of beauty. These women talk openly and honestly about what makes them feel most beautiful–from products they use to self-care rituals, and even how they manage to take time for themselves while juggling families and careers. It reads like the secrets shared between sisters, best friends, mothers and daughters… the little manual you always wished you had when entering the world of womanhood. If there's anyone we trust to point us in the right direction when it comes to beauty, it's this bright, engaging author who has literally spent a lifetime (from the moment she could lift a Mulberry clutch, we imagine)  behind the scenes at Vogue.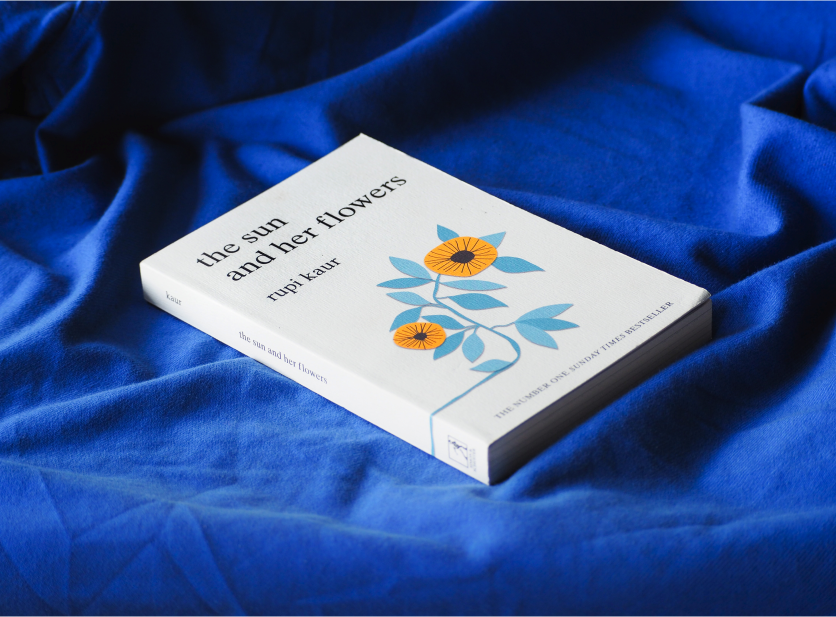 The sun and her flowers, Rupi Kaur
Rupi Kaur's first collection of poems (the top 10 Sunday Times bestseller Milk and Honey) was self-published after her Instagram poetry series went viral.  The Canadian poet's much-anticipated second volume the sun and her flowers is illustrated – like the rest of her work – by Kaur herself, and weaves organic themes of growth, rooting, blooming and healing into a lyrical exploration of love in all its forms.  Poetry's thoroughly modern renaissance is now well underway–from social media channels to small, beautifully illustrated volumes (which, as it happens, also make lovely gifts). Whether you're new to poetry or already have an M.A. in the subject, Kaur's collection, with its deft pop-music-like clarity, is a great place to start. We dare you not to cry a little…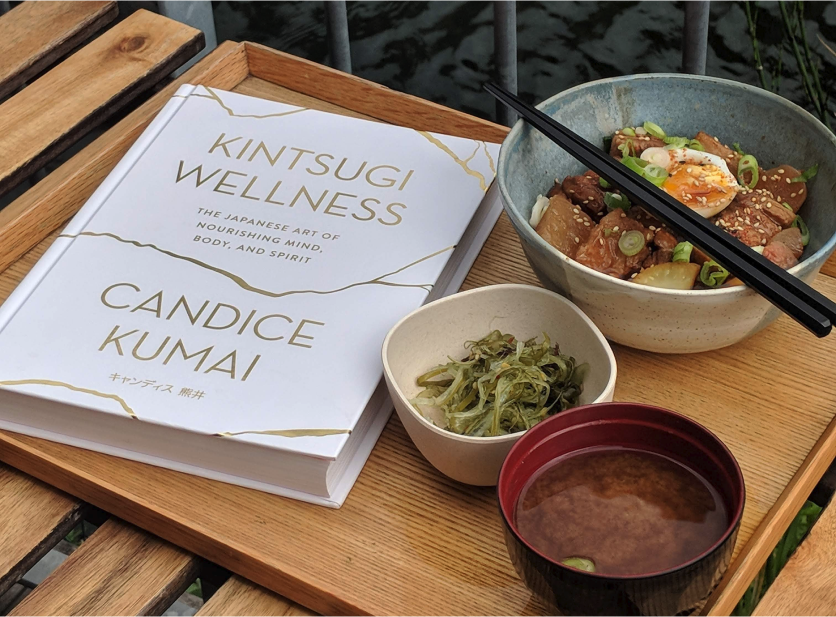 Kintsugi Wellness, Candice Kumai
Wellness influencer and author Candice Kumai bring us a new take on the Japanese philosophy of "kintsugi," meaning "with "golden repair".  "It's really a metaphor for people to understand that life will never be perfect, and each of us has imperfections and flaws," she says. In this book, Kumai shares carefully selected recipes and Japanese traditions to illustrate this fascinating mode of thought.