1/ "Go for the whole fruit!"
Try out this colourful fruit salad that packs in all the goodness of delicious fresh fruit.
Recipe idea: Tropical fruit salad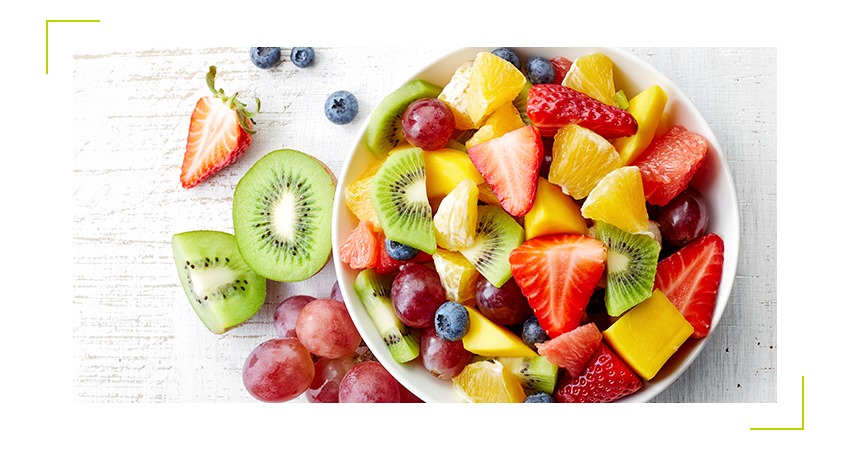 Ingredients: – 1 kiwi – 1 mango – 1 banana – 1 handful of strawberries – 1 handful of red grapes – 1 handful of coconut flakes
Method: Toss all ingredients into a large bowl. Drizzle with honey to sweeten, although there should already be plenty of sweetness from all that fruit – and more than enough juice at the end!
2/ "Indulge in those good omega-3's"
Try out this seriously tasty and crispy salmon recipe.
Recipe idea: Nut-encrusted salmon with rocket, tomato and avocado salad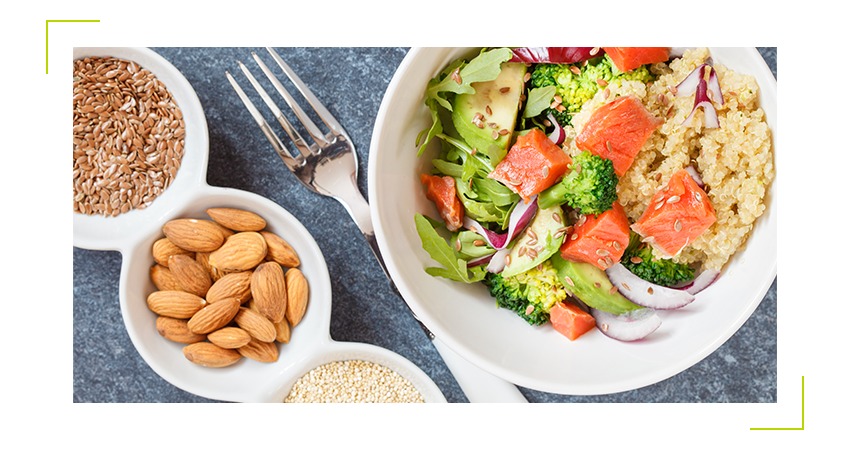 Ingredients: – 2 tbsp whole almonds – 1 handful fresh parsley – 50g breadcrumbs – 2 tbsp olive oil – 1 tsp garlic and horseradish mustard – Salt and freshly ground black pepper – 150g salmon fillet, skinned – Whole avocado – Cherry tomatoes – 1 handful rocket salad
Method: 1. Combine almonds, parsley, breadcrumbs, olive oil and salt and pepper in a blender and pulse until all ingredients are mixed 2. Spread garlic and horseradish mustard over the salmon and roll in the almond and breadcrumb mix 3. Add olive oil to a hot frying pan. Pan fry the salmon for 3-4 mins on each side 4. Peel the avocado, cut in half, remove the stone and chop into pieces. Add to bowl with rocket salad, cherry tomatoes, salt and pepper and drizzle with olive oil. Toss lightly 5. Add salad to a plate and top with the cooked salmon
3/ "Go for frozen freshness!"
Try out this speedy stir-fry recipe.
Recipe idea: Speedy Stir-Fry

Ingredients: – 1 bag of frozen stir-fry vegetables – Diced chicken breasts or beef – Soy sauce – Olive oil
Method: 1. Add oil to a wok 2. Throw in the diced chicken or beef and fry until browned all over 3. Add vegetables 4. Add soy sauce to taste 5. Eat on its own or add egg noodles or rice
4/ "Start the day with a bowl of energy!"
 Why not try out this creamy porridge recipe.
Recipe idea: Porridge Perfection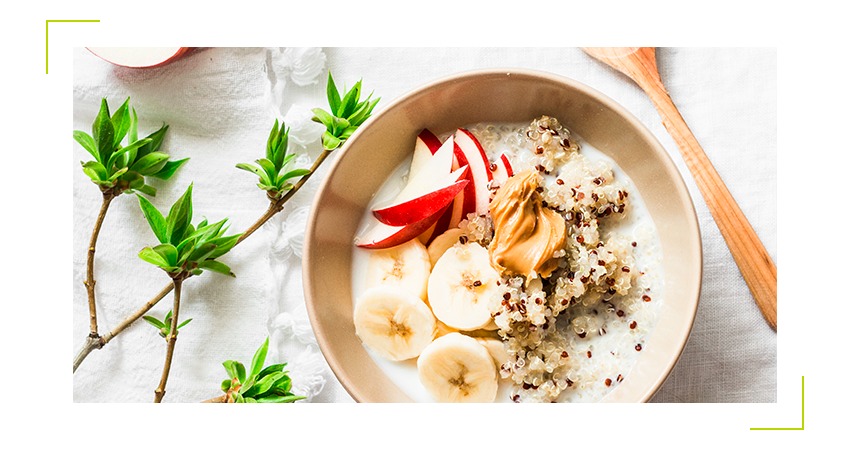 Ingredients: – 50g porridge oats – 350ml milk or water – Honey (to taste and sweeten) – 1 chopped banana (optional) – 1 handful of raisins (optional)
Method: 1. Combine oats and the milk or water in a pan. Bring to the boil and leave to simmer, stirring regularly to ensure the mix doesn't stick to the pan 2. When smooth, pour into a cereal bowl 3. Sweeten with honey and add fruit if desired. You can also pour a little cold milk around the edges of the porridge to cool it down
Your body needs a whole range of different nutrients to stay balanced. So think of this picture to help you maintain your well-being: eat a rainbow of foods to get as many of those nutrients on your plate as possible! — REFERENCES https://www.bbcgoodfood.com/howto/guide/should-i-still-drink-fruit-juice https://www.healthline.com/nutrition/10-super-healthy-high-fat-foods#section2 https://www.sciencedaily.com/terms/calorie_restriction.htm https://www.diabetes.co.uk/news/2017/nov/study-reveals-how-calorie-restriction-can-help-lower-blood-glucose-in-the-short-term-96045735.html https://www.bbc.com/food/recipes/almondcrustedsalmonw_85526 (adapted) https://www.bbc.com/food/recipes/vegetablechickenstir_76805 (adapted) https://www.bbcgoodfood.com/recipes/1431/perfect-porridge (adapted)